That Texas Couple gives tourism thumbs-up to Highland Lakes after visit
Travel bloggers and social media influencers Michelle and Marty Snell, known online as That Texas Couple, spent the weekend visiting wineries, local businesses, and other staple tourist locations across Burnet County on April 9-11. The couple promotes cities, states, and even some European countries, posting about their trips on their social media accounts and travel blog.
The Fort Worth-based couple worked with the Burnet County Tourism Board to set up their schedules, prioritizing staple tourist locations in both Burnet and Marble Falls.
They stayed at the Canyon of the Eagles Resort, 16942 RR 2341 in Burnet, where they ate dinner and began collecting photos and videos of the resort's unique features and views. Later, they explored Spider Mountain Bike Park, enjoying a ride on the state's only year-round chairlift, and then made their way to Torr Na Lochs Winery for the afternoon.
In Marble Falls, they visited the historic Blue Bonnet Cafe and strolled downtown Main Street, stopping to shop and take photos inside businesses. Michelle said they always make sure to get shop owners' permission before taking photos inside and often ask locals for recommendations on what to buy and where to stop.
"This way, we're shopping and supporting local," Michelle said.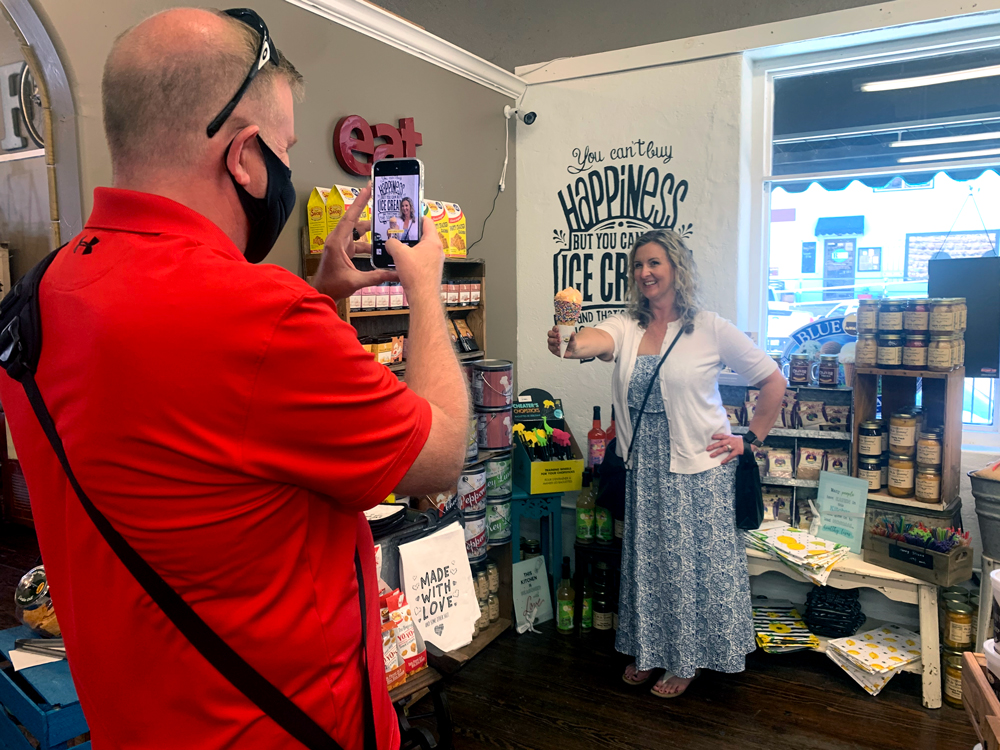 Aside from their website, Michelle is most proud of their Pinterest account, which is followed by more than 9,000 website users. They also have an active following on Instagram, TikTok, Facebook, YouTube, and Twitter.
Michelle and Marty share the responsibility for creating content for their website and social media accounts. A public school administrator, Michelle is often the face of their videos and also writes in-depth blog posts about their stays.
Although he does make it into the picture, Marty spends most of his time behind the scenes, snapping and editing photo and video content as they go. They share bits and pieces of their relationship with readers and viewers 
Throughout the next few weeks, they carefully choose and edit their favorite videos and photos, which they later promote via all of their accounts. They make sure to tag the businesses they visit to help direct web traffic and possible tourism to them.
Geared to promote the many tourism opportunities in the Highland Lakes, That Texas Couple's travel blog seeks to "give you practical travel tips and advice to help your couples' travel dreams come true!" The Highland Lakes of Burnet County comes highly recommended, both said.