Find Peace and Relaxation at Cool Waters Cabin
Immerse yourself in Cool Waters Cabin, a peaceful vacation spot in Burnet County on the Colorado River as it flows to Lake LBJ. Lounge under a rich canopy of mature live oak and pecan trees on a grassy lawn or enjoy the sun on a floating lily pad or the boat dock.
As one of the hidden treasures of Burnet County lodging and resorts, Cool Waters Cabin features 85 feet of waterfront where you can fish, swim, canoe, or kayak. You may tie up your boat or Jet Ski to the dock. Take a trip up the river to experience the beauty of the Highland Lakes. Prehistoric boulders in the water keep boats slow and waters calm for swimming and exploring.
If you make your way downriver to Lake LBJ, you can wakeboard and waterski in Texas' largest constant-level lake. Or, drive north to nearby Inks Lake or south to Marble Falls, where you can find plenty of things to do in Burnet County, such as shopping, dining, wine or beer tasting, live music, and more. Back at the house, take it easy on the porch swing or sit on one of the many comfy chairs while enjoying access to the outdoor bar with a refrigerator and charcoal and propane grills.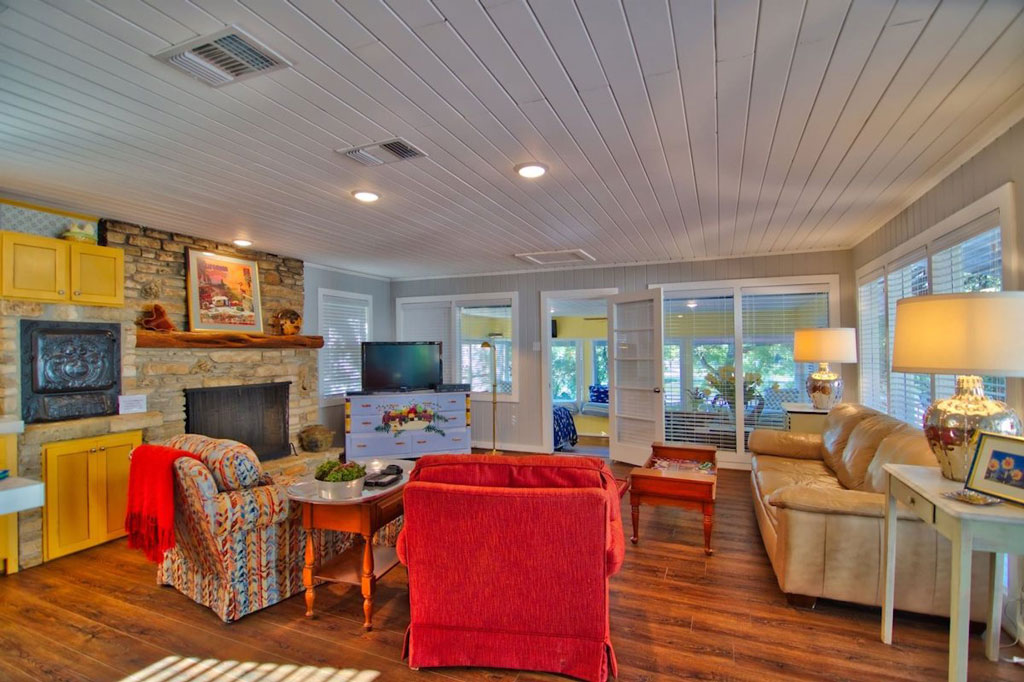 The interior of Cool Waters Cabin has been updated recently with a remodeled kitchen, new flooring, and a ping-pong table. Window blinds were added for privacy in the "treehouse room," which is outfitted for five with a queen-size bed and three twin window beds overlooking the water.
Another bedroom is furnished with a queen-size bed and a twin sleeper sofa. In the living room, you'll have access to a full-size sleeper sofa, providing beds for up to 10 people total. Two full bathrooms and a washer/dryer unit make for a cleaned-up Highland Lakes vacation. Additional amenities include a leather couch, comfy chairs, and a large TV with DirectTV access.
Locally and professionally managed, Cool Waters Cabin in Burnet County is the ideal spot for rest and relaxation on Lake LBJ.