Cemeteries: Windows to Burnet County's history
Burnet County's cemeteries offer unique glimpses into the Highland Lakes' past. Of the 40-plus burial sites in the county, 16 have markers from the Texas Historical Commission.
These markers give visitors a brief history of each graveyard, the surrounding area, and some of the people buried there. Many are family cemeteries with just a few plots, while others serve as the only remaining signs of towns or settlements that disappeared from state maps years ago. Yet others coexist with 21st century civilization, offering interesting juxtapositions. All have their stories.
Magill Family Cemetery
2302 S. Water St. (U.S. 281), Burnet
This small cemetery, surrounded by a rock wall, was once was part of a homestead owned by William H. Magill. A native of Kentucky and a veteran of Texas' Battle of San Jacinto, Magill moved to the area in 1850 to supply beef and grain to Fort Croghan. William's son, John, who died at age 15 in 1863, was the first to be buried on the family's land.
The cemetery only has five graves. The last to be laid to rest was William Magill's second wife, Elizabeth, who died in 1914.
Nowadays, traffic whizzes by on U.S. 281 to the east and small aircraft take off and land just west of the little time capsule of a graveyard.
Tobey Community Cemetery
6.3 miles northwest of Marble Falls on FM 1980, via RR 1431, Marble Falls
More than 200 people are buried in this cemetery, which sits on land once purchased by brothers Avery and Samuel Tobey in 1868. The first burial in the cemetery was in 1872, when Samuel and Martha Tobey's son, N.W., passed away. Although the brothers deeded land for a church and then a school, the church quit meeting by 1937, the same year the school consolidated with another district.
Today, neither building remains, leaving the cemetery as the community's lone landmark.
Smithwick Cemetery
11700 RR 1431, Marble Falls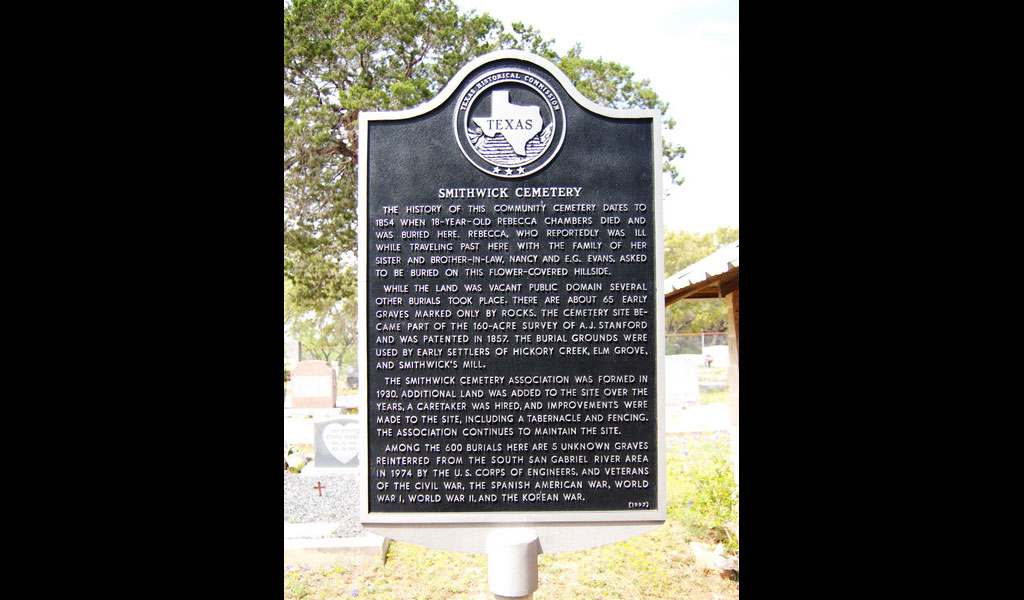 This burial site predates the three settlements that were later combined to form the small community of Smithwick. In 1854, 18-year-old Rebecca Chambers became ill when traveling through the area with family and asked to be buried on a hillside where the Smithwick Cemetery now sits. While the land remained vacant, others also buried their dead there. Many of those graves are marked only by rocks.
In 1857, the cemetery was incorporated. Smithwick was founded with the merging of Hickory Creek, Elm Grove, and Smithwick Mills. Smithwick's namesake, Noah Smithwick, left the area for California in 1861 after receiving several threats to his life due to his pro-Union sympathies.
Smithwick's population reached a peak of 150 in the 1880s. It's now estimated at 50. Twelve times that many are entombed in the Smithwick Cemetery.
Oatmeal Cemetery
Southwest of Bertram on Oatmeal Cemetery Road, via FM 1174 and CR 326, Bertram
The earliest documented interments here date back to 1854, when Mary Smith and her 1-year-old daughter were laid to rest. Originally, the cemetery sat on 2 acres of land, and the cemetery association, formed in 1945, expanded it by an acre in 1983. Veterans from the Civil War to World War II lie at rest here.
German families moved into this area in the 1840s, naming the settlement (in altered form) for a Mr. Othneil, a gristmill owner. At one time, Oatmeal had a post office, a school, a cotton gin, and a couple of churches. The small community co-hosts, with Bertram, the annual Oatmeal Festival.
Marble Falls Cemetery
400 S. Avenue S, Marble Falls
The Marble Falls Cemetery is not only the resting place of Mayor Birdie Harwood, the first female mayor elected before women even had the right to vote, it holds a mystery that St. Frederick's Baptist Church has been working for years to solve. About 150 yards from the cemetery entrance on Avenue N, in an area with no headstones, are the unmarked graves of slaves who worked local cotton fields and prisoners who worked at Granite Mountain in the late 19th century, according to the Rev. George Perry of St. Frederick's. Perry is on a quest to learn the identities of each person buried there.
An interesting side note: Some of the bodies buried there were moved from the Smithwick Cemetery by the Lower Colorado River Authority in 1941.